There are podcasts for everything imaginable these days. These audio recordings make it possible for you to learn about just anything—wherever you are, whenever you have the chance. That's great. But it can be difficult to find the ones that suit your interests. To help, we've put together this round-up of the best small business podcasts for entrepreneurs in 2021.
Podcasts are a great resource for small business owners and entrepreneurs. They make "learning stress-free and convenient." But there are literally thousands of them out there to choose from. You might want to hear firsthand from the business people themselves. Or you can listen to journalists or other experts interview successful entrepreneurs about everything from productivity to diversity in business, leadership to motivation, and so much more.
To make it easier for you to find the right podcast for you, we're highlighting 10 of the best small business podcasts focused on the entrepreneur's experience:
Brown Ambition 

Business Schooled

Entrepreneurs on Fire

HBR's IdeaCast

How I Built This

Marketing School

Mixergy

She Did It Her Way

The Goal Digger Podcast

The Startup Chat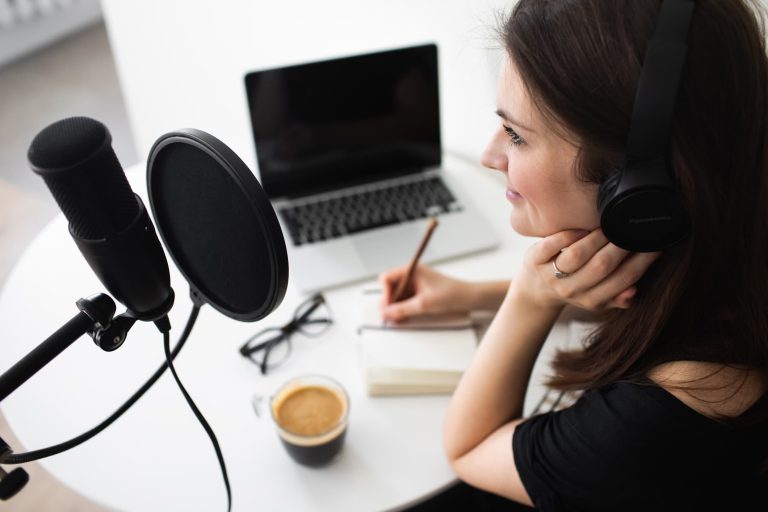 Brown Ambition
This five-star-rated podcast features a finance journalist and a financial educator helping "listeners live their best financial and professional lives." The two women of color discuss timely topics with each other and a range of guests and share personal anecdotes along the way.
Business Schooled
Hosted by Alexis Ohanian (co-founder of Reddit), Business Schooled takes listeners outside the world of software. Even though Ohanian is billed as a "Silicon Valley guru," the premise of this startup podcast is that he's going out into the world to talk to more old-school entrepreneurs about how they built such successful businesses.
Maybe you need to be on the other side of the mic. Consider: Should Your Marketing Efforts Include a Podcast?
Entrepreneurs on Fire
For his award-winning podcast, John Lee Dumas "JLD" interviews entrepreneurs, including Tony Robbins, Seth Godin, Gary Vaynerchuk, Barbara Corcoran, and Tim Ferriss. The podcast ties to his book, "The Common Path to Uncommon Success," which offers "17 steps to financial freedom and fulfillment with clarity and integrity."
HBR's IdeaCast
One of the top small business podcasts in 2021 comes from the Harvard Business Review. The weekly podcast tackles different topics in business and management. Recent topics included: "Lessons in Innovation from Bowie, Beyonce, and More," "Building Successful Hybrid Teams," and "Moving the Needle on DEI (Diversity, Equity and Inclusion)."
How I Built This
In his How I Built This business podcast, host Guy Raz of NPR tells the stories of innovators, entrepreneurs, and idealists and how they achieved success. You will learn the origin stories of some of the best-known companies to get ideas of what to do and heed the warnings of their stumbles along the way. The more than 360 episodes available already include features on:
Bobby Brown Cosmetics

Compass's Robert Reffkin

Mailchimp's Ben Chestnut

Carla Bartolucci of Jovial Foods

Jet Blue Airways David Neeleman
Marketing School
Co-hosted by Single Grain's Eric Six and marketing guru Neil Patel, this podcast has short, focused episodes "full of real talk about all things entrepreneurship." The duo has released more than 1,800 episodes with topics ranging from "Should You Even Start a Blog Today" to "How Big Is Facebook Going to Get."
Mixergy
This is a top choice when it comes to the best podcasts for starting a business. They offer a chance to "learn from proven entrepreneurs" in interviews with top startup founders. Want to know who admitted, "I secretly despised my business?" Or to learn about hiring a remote sales team. Mixergy has you covered.
She Did It Her Way
This may be one of the best business podcasts for beginners as it really focuses on "important questions about starting a business and when to make the leap of going full-time as an entrepreneur." Host Amanda Boleyn interviews inspiring women who have taken the leap while adding in advice about transitioning from working for someone else to becoming a business owner.
The Startup Chat
Another option for those just starting a business, this small business podcast has new episodes every Tuesday and Friday. Hosts Steli Efti, co-founder and CEO of Close, and Hiten Shah, founder of Software as a Service (SaaS) company KISSmetrics, cover a wide range of topics, including:
"How to Improve Cashflow During a Crisis"

"The Power of Encouragement"

"How to Acquire and Cross-Promo SaaS Apps"

"Should Founders be Doing Sales"
The Goal Digger Podcast
This best small business podcast is from a small town Minnesota mom who says she's recording her podcasts in a closet! Jenna Kutcher talks with guests about business, branding, marketing, and inspiration. Recent episodes include:
"The 5 Biggest Entrepreneurial Fears and How to Face Them"

"Tech Tips to Know Before Creating a Digital Course"

"How to Get Customer Testimonials Fast"

"What You Actually Need to Do Before Leaving your 9 to 5"
Listening To Best Small Business Podcasts 
If you don't have time to read the business books on your nightstand, you can still get the know-how you need from these best small business podcasts. Tune in on the treadmill or while tidying up that guest room for the in-laws' visit. You can learn something new in no time by streaming podcasts.
Are you thinking about starting your own podcast? Review our How to Launch a Podcast article or Podcast Website Best Practices.