Are diversity and inclusion a part of your small business culture? Here's what it is, why your company needs it, and how to adopt more inclusive practices in your workplace this year. 
More diversity and inclusion for small business employees mean greater comfort levels, a safer work environment, and enhanced performance for everyone. Embracing a culture that accepts and celebrates people's differences is a key competitive advantage for a company. 
McKinsey's Diversity Report recently declared that businesses that attract and retain a diverse and inclusive workforce are more likely to prosper, while those that ignore it are likely to fail. As future predictions go, this one is backed by some serious trend, historical, and empirical data. 
The future is clearly diverse and not homogenous. Here is everything you need to know about the importance of inclusion and diversity and how to promote it in your own business.
What Are Inclusion and Diversity?

Everyone is different, yet our workplaces often represent what one group sees as the norm. It goes a step further and makes employees who don't fit the mold feel like they're on the outside.
These employees are excluded from being a real part of the company. They often don't have the same equal treatment, opportunities, or freedoms that others automatically enjoy.
Inclusion and diversity in the workplace aim to fix this.
Diversity: Any designation that differentiates people or groups of people from one another. 
Examples: Race, gender, ethnicity, sexual orientation, disability, age, religion, neurological functioning, national origin, or education.
Diversity in small business means appreciating, respecting, and understanding the differences among people. We're talking about the full spectrum of human experience here, regardless of distinguishing traits. Diversity training for small businesses can teach you more about these varied groups. 
Inclusion: The act of being included within a group or social structure. 
Examples: Measuring inclusive hiring practices, inclusive website design for small businesses that shows workplace diversity, encouraging a workplace culture of inclusion, and running inclusive initiatives.
Diversity and inclusion are not the same things, but they support each other. Diversity alludes to the "what" and inclusion shows you the "how." Inclusion refers to your company's various practices and ongoing employee engagement. It aims to create a sense of belonging for all of your employees. 
Take a look at your business website. Does it represent the diversity in your company? Representation is a crucial inclusive practice, so a new website hosting service and web redesign might be in order if you find your identity outdated and tailored for exclusionary "norms."

Why It's Important for Your Small Business
Diversity and inclusion are essential for the current and future success of your company. Take a look at these three major benefits of promoting it at work.
Supercharge your innovation:

Business diversity means more perspectives, different views, and unique experiences contributing to your growth. You're

1.7 times

more likely to be a leader in your niche when you're actively inclusive. 
Attract and retain the best talent:

With

67% of job seekers

saying that workplace diversity is an important factor when considering employment opportunities, having a more inclusive business attracts better people, and they work for you for longer.
Grow faster and make more money:

There is increasing evidence that diversity gives your company a competitive edge, and it helps you make more money. In fact, you're

35% more

likely to make better financial returns than the national industry average.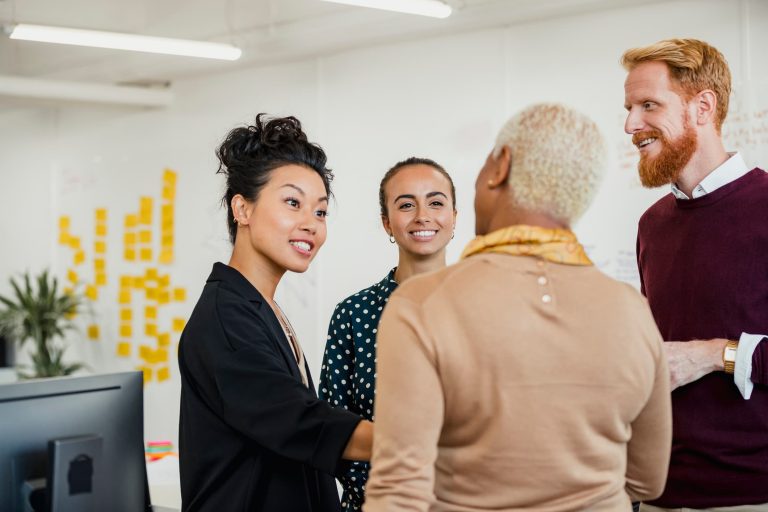 5 Ways to Be More Inclusive and Diverse
You need some fresh diversity and inclusion training so that you can start embracing, amplifying, and promoting your inclusive workplace. It's not just the right thing to do; it's also the smart thing!
#1: Look at Your Leadership
Small business diversity and inclusion begins with your leadership team. Ask yourself how diverse they are and if they represent who you are as a company to the rest of your employees and customers.
>> Audit your leadership team and business structure—make provisions for diversity. 
#2: Engage in Inclusive Initiatives
Make a point of engaging in activities that support and empower the various groups that make up your business. A good diversity and inclusion initiative would be fundraising for a charity focused on women's issues.
>> Take part in inclusive community programs, initiatives, and drives. 
#3: Support an Inclusive Culture
It's important to embrace an inclusive culture, but this often means helping your employees with diversity training. An example is teaching your staff about LGBTQ+ language in the workplace. 
>> Help your employees understand each other with educational training to build an inclusive culture. 
#4: Prioritize Diverse Partnerships
If you want to improve diversity and inclusion in the workplace, you need to nurture relationships with partners that reflect your inclusivity. Partnering with minority-owned supply companies is an example.
>> Review your partnerships and find ways to include a range of different companies. 
#5:  Focus on Listening to Employees
Small business and diversity work better together as supportive concepts when you actively listen to your employees. Make sure all groups can express themselves and feel heard, safe, and able to be their authentic selves at work. Speak different languages. Accept different religions.  
>> Create a workplace that encourages everyone to have a voice. 
If you want to get started with making your small business an inclusive place to work, consider what your website is saying to customers, partners, and potential employees. 
If your web design is already diverse—awesome! If you need to update it, consider a website redesign that focuses on keeping your website culturally up-to-date, inclusive, and visible.