Sustainability is a selling point. That's not the only reason for business sustainability, but it doesn't hurt. Still, someone can only know your small business is prioritizing the environment and social good if you tell your sustainability story. This article shares several suggestions on how to do just that.
Eight in 10 consumers say they value sustainability, according to Barron's. In fact, survey respondents said they would pay, on average, 35% more for eco-friendly brands. Plus, a third of consumers said they'd ditched a previously favored brand in 2019 over sustainability concerns. 
B2B buyers are also demanding sustainability. After all, partnering with manufacturers or service providers that support sustainable practices helps their efforts to do well too. All this highlights the importance of telling your business's sustainability story. 
Of course, the first critical step is to actually have a story to tell. There's an opportunity to boost your brand in minimizing carbon emissions, demanding higher ethical standards from your suppliers, expanding diversity initiatives, achieving pay equity, or making other powerful changes. Try the following approaches to get your sustainability story out there:
Develop a strong narrative

Dedicate part of your website to sustainability 

Produce a sustainability report

Provide strong data

Think broadly

Communicate to employees too
Develop a Strong Narrative
Who is your sustainability effort helping? Start there. Brand storytelling is more effective when there is a focal character the consumer can care about. Finding a face for your efforts is going to help create emotional engagement. That's what makes your story resonate with your audience.
Connect the story to your company's vision and mission too. Make it clear how the sustainability activities support what the business believes and how it does business every day. 
Also, keep the communication around your sustainability story in line with your brand voice. You want people to recognize the business they know and appreciate when you humbly share the small part your business is having in helping its community.  
Dedicate Part Of Your Website to Sustainability Goals 
The main menu of your business website isn't only a way for people to find what they seek. It also immediately identifies your priorities to site visitors. Putting sustainability on your site, or designing a focused microsite, gives you a place to tell your story on an ongoing basis. 
There are many content elements available for your sustainability page or section. Share success stories. Post videos and images. Articulate your sustainability/ESG goals here for everyone to see. Have a Frequently Asked Questions section to answer common consumer or investor queries.
Engaging with external influencers can also help you share your sustainability activities. You might:
Partner with non-profits that share your overarching sustainability goals 

Submit to awards for sustainability and social impact

Ask employees to share their unbiased views

Reach out to sustainability and ESG news sites, blogs, and podcasts
Produce a Sustainability Report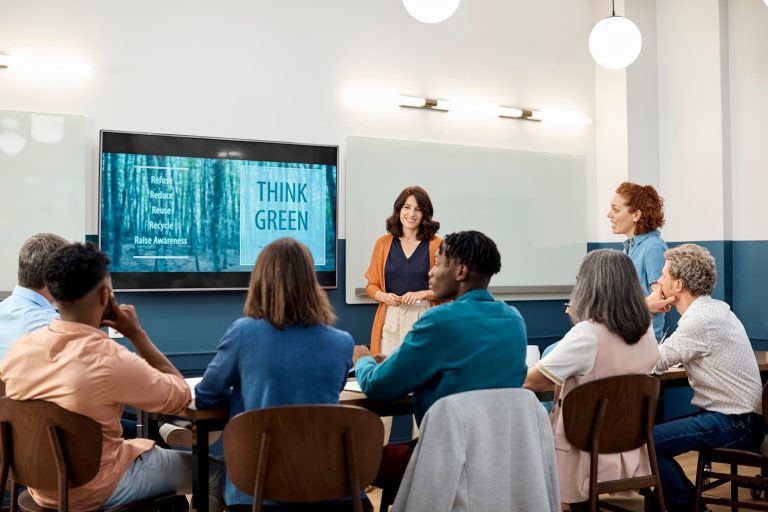 Publishing a sustainability report helps your company map out objectives, highlight progress, and transparently track metrics. This report can help demonstrate your commitment to business sustainability, which will help build credibility with consumers, suppliers, investors, and other important stakeholders.
Of course, we're going to suggest this be for digital distribution only (go paperless is one of our 20 small business sustainability best practices). Nevertheless, don't just post a PDF on your business website and move on. Make the information easily navigable. Also, pull out some of the findings for social media posts too! 
Provide Strong Data
Yes, we told you to tell a story and put a face to your sustainability efforts. This doesn't negate the need for strong data too. In a panel for the Network for Business Sustainability, Bloomberg News' Sustainable Finance Editor Emily Chasan noted, "Companies will say they're really confident in the ESG data they're reporting and the sustainability info they're reporting, but only 29% of investors are confident in that information."
With 93% of the world's 250 largest corporations reporting to the Global Reporting Initiative (GRI), sustainability reporting is becoming the norm. It helps that data access is increasing too with digital transformation.
Think Broadly
Sustainability initiatives come in many shapes and sizes. Don't limit your thinking about what activities might make your story engaging or unique. You can communicate around:
Goals and progress

Vision and purpose

Risk mitigation

Climate change

Resource scarcity

Economic events

Human impact

Community involvement

Philanthropy

Diversity

Employee wellbeing 
Don't overdo it to the extent that you are setting your business up as a big hero. Everyone has a part to play in addressing environmental, social, and economic impacts. Try instead to encourage others to take action too. Inspire hope.
Communicate to Employees Too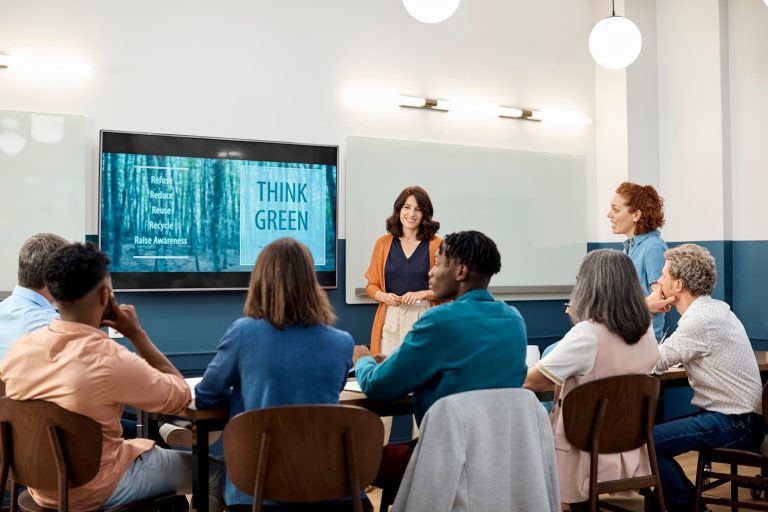 Don't only tell your sustainability story to external stakeholders. Make sure you are also putting together an aspirational communication plan to inform your employees and board members about your efforts. This could include:
Putting sustainability goals in the employee handbook

Incorporating sustainability objectives into onboarding

Demonstrating ongoing effort by highlighting employees achieving success or offering innovative ideas

Sharing investor and ratings Environment, Social, Governance (ESG) analysis for your business 

Communicating how sustainability efforts are directly connected to business success
Establishing a sustainability plan for your small business is useful too. We will explore the essential elements of a sustainability plan in our next blog in this series.