IronYun's AI Vision Platform won the 2020 New Product Showcase for Commercial Monitoring and received two New Product Showcase Awards in 2021 for Mobile Applications and Video Analytics. Also in 2021, IronYun was recognized as a Major Player in IDC's Worldwide Video Analytics MarketScape and partnered with DP World and Verizon to study Vaidio AI Vision in port and warehouse safety and operational applications.
The following article is an excerpt from a March 9th 2022 interview with Paul Sun, President and CEO at IronYun in conjunction with the Verizon Work Tech Group.
Thirty years ago, Paul Sun graduated with a PhD in artificial intelligence (AI) and went to work for a top tech company that wanted to teach the AI to see. The firm wanted to use its billion dollar R&D budget to develop a system as smart as a six-year-old. It took much longer, but Vaidio video analytics has reached, even surpassed, the goal.
There was no lack of smart people or resources for the project in the late 1980s, he says. The idea was just "way too early for its time…how the human brain works wasn't clearly understood yet."
Really, "the common sense of a six-year-old is still pretty advanced and today's computers are still not there yet." However, in the past decade, the possibility of AI vision became a real opportunity. So, Sun started IronYun to try and take AI into the real world. 
Giving AI the Power to See
Giving vision capability to AI was one of the "holy grails" for computer scientists and engineers. "People have long been dreaming about a machine that can see," Sun says. "You don't even need a technical background to think that would be great."
With Vaidio, Sun's Stamford, Connecticut-based company IronYun, has cracked the vision capability conundrum.
The Vaidio™ AI Vision Platform promises to turn any Internet Protocol Camera into an "AI powerhouse." The platform delivers "solutions for security, access control, safety and search," including:
Abnormality detection

Face search and recognition

Heatmap generation

ID certification

Object left behind detection

People/vehicle counting

Smoke and fire detection
Video cameras can capture everything. But, it's the technology that understands what is seen in context. One of IronYun's first customers was the Department of Defense looking to improve physical security. For example, the solution can identify weapons, detect unauthorized access, rapidly search video of past events and recognize license plates.
Today, the technology has evolved for use in a variety of ways. The gamut includes detecting nursing home falls, alerting building owners of fire or smoke, and providing streamlined access control in office buildings.
Expanding the Vision for Vaidio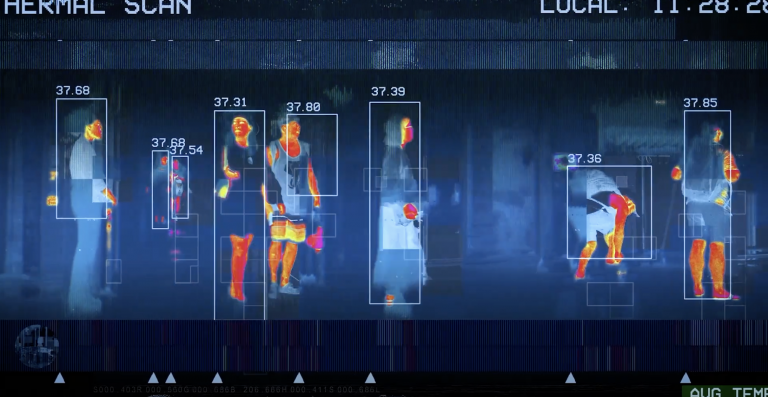 IronYun's solutions are deployed in with tens of thousands of cameras worldwide. The developers' focus is on safety and security. So, with the arrival of COVID-19, new rules were created to help provide Social Health Analytics.
"Volkswagen was the early adopter of the social health analytics solution. The pandemic closed down the company's main North American manufacturing site in Chattanooga, TN. The economic impact of closing a 3,000-person-plant was massive. To open again safely, the company had two employees manually temperature checking each employee in hour-long entry lines. Obviously, not a great long-term solution."
IronYun adapted its platform to read body temperatures at the controlled access points. Individuals could be scanned for thermal analysis without stopping. A security guard could receive a real-time alert to pull someone aside for a health check before they joined the workforce on the plant floor. 
The Vaidio screening technology can also recognize if people are wearing face masks on the line and monitor social distancing throughout the plant. It all means the manufacturer could reopen more efficiently, and safely.
Why Vaidio Intelligence Stands Out
The camera footage was already out there. At this point, Vaidio integrates with dozens of market-leading video management systems and chemical and audio sensors for holistic situational awareness. The difference is that it can now be understood in context. 
"One of the major benefits we see is the technology's ability to screen and monitor 24/7," Sun said. "This ensures reliable and consistent data collection while bringing humans in when further analysis and evaluation is needed."
Powered by 5G at the edge, Vaidio's platform can perform with low latency in near real-time. "High body temperature it is good to know an hour later, but it is even better to know right then and be able to do something about it," Sun said.
Next, IronYun is exploring new applications. Installing Vaidio on an HD camera at Newlab enabled the company to successfully monitor movement across a simulated environment, flagging security concerns and breach of safety protocols. Additionally, IronYun streamed their data into Verizon's Sensor Intelligence platform, providing contextual analytics and a deeper perspective on the data. "In the retail setting," Sun says, "the powerful analytics could support customer satisfaction by reading how many people come into a store, how long they are waiting, etc."
To care for privacy concerns and maintaining anonymity, the solution does not tie any identifying data to the individuals coming into the store. Privacy blurring is an important component along with data retention and user management features for improved compliance with data and privacy regulations.
"There's a lot of excitement in terms of what AI vision can potentially do," Sun says. The big thing for IronYun is to educate clients to think differently about what they can do with their video. Vision capability "opens up so much opportunity," he says. With Vaidio seeing and not simply recording what is going on, it is time to explore all the new possibilities.