Artists' skills involve bringing concepts and emotions to life through physical and digital media. They use the brush (or the pen) to show how they see anger, sadness, and joy in the form of colors and materials. Curators' skills rely on seeing order in chaos and bringing complementary pieces together to form cohesive themes that tell visually compelling stories.
While the skills of both these professionals are essential to the creation process, they don't help much in the realm of selling art online. Whether you're an artist or curator, it's important to gain insight into getting your beautiful pieces in front of interested customers through an online shop.
Questions to Answer Before Selling Art Online
Before you jump into the deep end, consider a few questions that will help guide your sales approach.
Do you want to sell your own artwork or the artwork of others?
Essentially, the answer to this question places you in either the artist or curator role for sales. If you sell your own artwork, you keep most of the profit. However, you'd have to consider the time required to create and sell. Alternatively, you'd make a much smaller profit if you choose the curator route as you'd be splitting sales with the artists. There's money to be made either way, so it depends on which role you feel would better suit you.
Do you want to sell reproductions or originals?
What type of art do you create or curate? Would it make more sense to sell only originals, expand to reproductions, or do a combination of both?
For example, originals tend to be sold at higher price points—after all, a rarer piece commands more money by comparison. However, reproductions can be sold repeatedly with less creative input needed. Typically, digital art works well as reproductions since there is no loss of quality.
Once you've decided on a path, get into the insights below on selling art online for beginners.
How To Sell Art Online and Make Money
1. Set up your business.
It's important to lay a solid foundation on which to build your art business. That starts with getting some administrative and legal tasks out of the way. You can easily address these tasks with Yahoo Business Maker, which supports you with whatever you need—a business plan, business filings, finance tracker, a business website, business listings, and more. And you can manage everything from an easy-to-use dashboard.
2. Explore your printing options.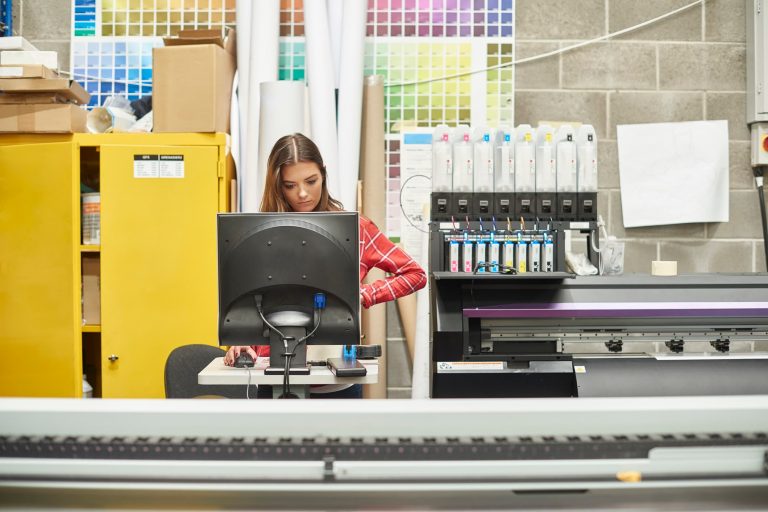 When it comes to printing artwork, you have three options:
Do it yourself (DIY) printing

Third-party printing

On-demand printing
DIY Printing
If you want to keep costs low and don't have a high quantity of orders, you may start off with DIY printing. You may be worried about the quality, but you can create high-quality prints as long as you use the right paper, ink, and printer—and no, not the kind you buy for $100 at your local office supply store! Once sales pick up, you should consider upgrading to one of the other two printing options.
Third-Party Printing
Using a printing company is also a cost-effective approach. To take full advantage of cost breaks, you'll likely need to reach a minimum order quantity. This option works great if you print a lot of the same art pieces. While you'd still need to address packaging and shipping, having someone else print can save a lot of time and mitigate order delays.
On-Demand Printing
Printing on demand is the most versatile and hands-off option. Several print-on-demand (POD) services are available to take care of the printing, packaging, and shipping. They generally integrate with your online store, and all you need to do is upload your designs. When customers place their orders in your online shop, the POD company prints and ships accordingly.
3. Create your online store.
Here's the fun part. Now you get to put together your ecommerce website so customers can shop to their heart's content. Creativity is your strong suit, so be sure it reflects your art well and stands out from other art vendors. If you need some help in developing your site, turn to Business Maker.
4. Be mindful about packaging and shipping.
If you're using a POD service, you don't have to worry about packaging or shipping. But if you're taking the DIY route, you need to be extra careful with how you pack your art to ensure it makes it to the customer in mint condition:
Larger prints should be shipped in cardboard mailing tubes.

Smaller prints should be mailed in rigid cardboard envelopes.

Expensive or oversized original prints should be mailed in specialty boxes designed specifically for artwork.
Pro tip: Use clear cellophane sleeves or glassine in the packaging to protect prints.
5. Market your art.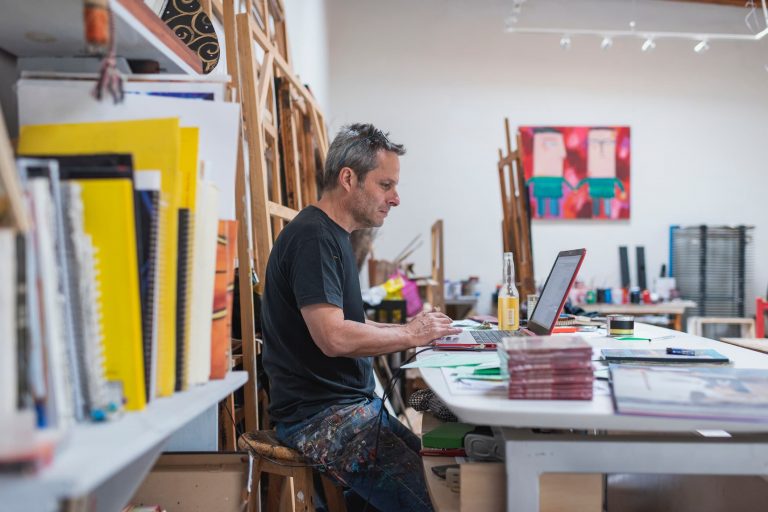 In an ideal world, your art would simply sell itself to eager customers. In the real world, however, you have to generate interest in your art. Just because you set up your online shop doesn't mean customers will automatically flock there. Get the word out through:
Ads.

If you have the budget, try running ads on Google and social media platforms. Make sure they're as visually stunning as the art you create.

Social media.

Create your social media pages, especially on visual-centric sites like Instagram and Pinterest. Grow your following and engage with them, making sure to encourage sharing to increase your art's exposure.

Influencers.

Find social influencers who complement your brand, then partner with them to expand your reach and drum up sales.

SEO.

Search engine optimization

, or SEO, is a marketing tactic focused on helping your website rank highly on Google. The higher your ranking, the easier it will be for customers to find you among your competitors. Focusing on SEO can help your site grow over time.

Local venues.

Art shows, galleries, markets, and even bars are great venues to frequent and showcase your art. Build good relationships with owners and managers to create fruitful partnerships.
Bonus Tips
Here are a few tips you may choose to follow with your business. They're helpful but not necessary to sell art online for money.
Start an art blog. Recall that SEO is a useful marketing tactic. Blogs are useful tools for improving SEO efforts for your website. Here's how it works: As you create content around a particular subject—art in this case—your site gains authority, which leads to better rankings. Keep in mind this process doesn't happen overnight, but it's a useful long-term strategy for continually reaching more customers.
Your art blog also acts as a brand builder. Depending on what you choose to write about, customers get the chance to learn more about you and your business, get your take on the art scene, and gain insight into your creative process. Visitors who haven't purchased from you before may find your site through a blog post, then turn into customers once they see the art you have to offer.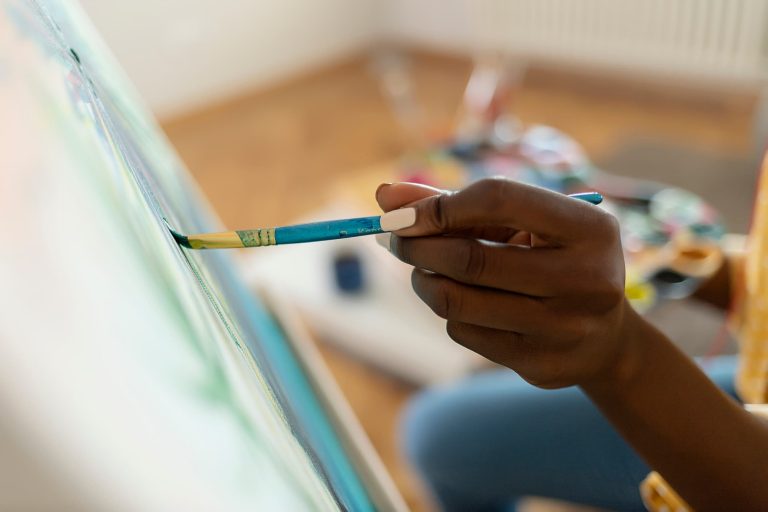 Accept commissioned work. Creating art from your own influence is great, and it can be quite satisfying. But there's a different type of satisfaction that comes from customers that trust you to create art from their influence. Commissioned work can also be a valuable, additional revenue stream.
Artist, curator—whatever path you've chosen, hopefully, your journey is a bit clearer from reading the above insights on how to sell art online. Just remember to treat the journey like your art and take your time. You'll thank yourself, and so will your customers.