As a small business owner, you already have a lot to keep up with. Unfortunately, there's one more thing to consider—web design trends. An outdated website can lead to revenue loss and hurt your customer retention efforts. We'll make it easier, though. This article shares the top web design trends for 2021. 
First, let's be clear, these trends don't mean you need a brand new website. The small business owner can take advantage of the biggest web design trends with a website upgrade. 
Still, the importance of updated website design can't be underestimated. The benefits of updating your website include:
Sending the message your business is evolving and growing

Jumpstarting your marketing efforts

Being able to add new technology and functionality

Enhancing SEO value
Regularly updating your website also ensures you don't fall behind the competition. This round-up of modern web design trends in 2021 will discuss:
Dark mode

3D elements

Mixed media

Fast load times

Minimalist design

Voice activation
Dark Mode
This one sounds a little like you need to add necromancy to your site. But fear not. You don't need to publicize your dark side. Instead, dark mode refers to using light-colored text and icons on a black background.
On Apple devices, people can schedule when they want the device to change to dark mode. This mode saves battery power and can reduce eye strain in low light. Google Chrome can also be set up to force web content into dark mode. 
Also known as black or night mode, this super-modern look lets certain design elements stand out. Give your business website design a refresh by providing an alternative to the blinding white backgrounds of old. Making dark mode an option for users is a good idea.  

3D Elements
So we're doing business online. We still want to have digital experiences that approximate real life. Flat design is so old school!
Drawing on a survey of its designers, 99Designs concluded, web design will be incorporating "fine shading that gives a rounded feel to the flat icons of yesteryear." Aspiring for hyperrealism, designers will be "abandoning the neat transitions of gradients for background blended colors that come across as more imperfect and natural."
With the growing popularity of virtual and augmented reality, the 3D design trend is unlikely to slow soon. 
A design publication on Medium noted, "Depth adds to the sense of realism, a quality that can be especially beneficial for e-commerce, where 3D imagery can be utilized in presenting products from various perspectives or in practical use." 

Fast Load Times
OK, this one isn't really new. Online users have always cared about fast load times. The thing is, their expectations are only growing. At the same time, website design is getting more and more involved. Adding 3D elements, for example, can't come at the cost of website performance.
A site can look Uber-cool, but it won't help your business if the user finds it unresponsive. The oft-repeated threshold is "two seconds." That's how long you have for your site to load before visitors check out. Not only will they leave, but they're also unlikely to come back.
Your mobile-friendly website must have fast load times. In 2015, Pinterest engineers improved its mobile homepage performance by 60 percent. As a result, it's mobile signup conversion rate jumped by 40 percent. 
Load time is also a factor in your search engine ranking. After all, it directly correlates to user experience. So, always pay attention to page load time and site performance when updating your website. 
Looking for web design inspiration? Our article Landing Page Inspiration: 17 Examples to Spark Your Creativity could help.
Mixed Media
Can't decide whether you want photography or graphics on your business website? You're in luck. You can have both. In 2021, overlapping photos with graphics are going to be one way to make an impression. It's already happening on social media, but now it's catching on in website design.
Blending media can help you add depth and personality. Keep your website visually appealing with a mix of media that still suits your brand. You might reinforce your company's voice by updating your site with a photo mixed with your logo.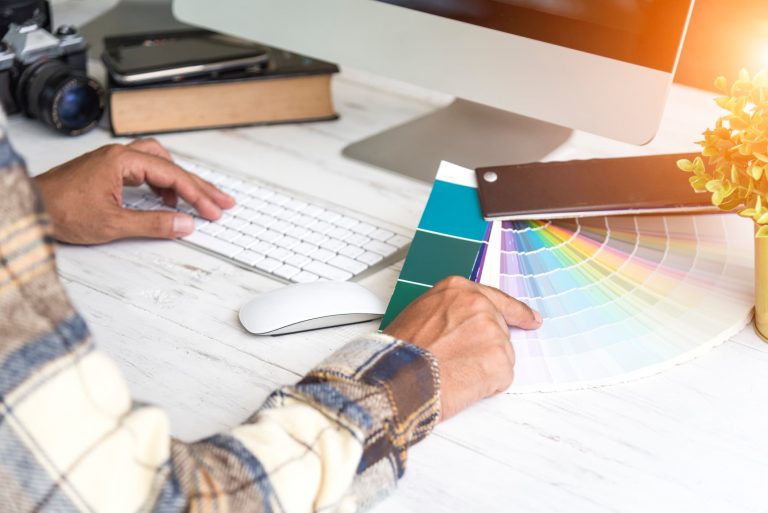 Minimalist Design 
One of the biggest web design trends is a continued embrace of minimalist design. You can incorporate this trend in a website redesign by incorporating more bold colors and typography.
Big, bright colors are on the rise. Replacing the soft neutrals of the recent past, these saturated colors are paired with subtler tones to make a striking impression.
Take a look at Pantone's 2021 color of the year, Illuminating, and you'll know what we mean. The vibrant yellow is described as "a bright and cheerful yellow sparkling with vivacity, a warming yellow shade imbued with solar power."
Typography is going stronger too. "With heavy, bold fonts, the reader is instantly aware of the message, not necessarily the imagery," suggests TheeDigital. "Combining these large fonts with neutral colors further emphasizes the headlines."
Find out more about reasons to redesign your website. Read Here's When It's Time To Update Your Small Business Website.

Voice Activation
"Hey, Google …" With virtual assistants like Siri and Alexa gaining ground, web design needs to adapt to the new way we access information. Optimizing for voice search is going to be big this year and for the foreseeable future.
TheeDigital has three top SEO tips that are "especially important for voice search":
Use natural language and long-tail+ keywords.

Keep it local.

Give concise answers.
Conclusion
Consider yourself caught up. You're current on some of the leading web design trends for 2021. Of course, none of this takes away from the importance of engaging content and search engine optimization. 
Keep up with 2021 web design trends and the next ones, too, without doing all the work! Yahoo Web Design service provides a fresh design, new content, web pages, annual redesigns, and more. All with one plan.