Gone are the days of the big metal cash register with its punch keys and the total popping up like a flag at the end of the transaction. Customers would be surprised even to see a traditional cash register in many stores today. The contemporary business is using tablets or mobile devices to ring in sales. This article describes a mobile point of sale and its advantages.
First, what is a mobile point of sale? The software, also known as an mPOS, takes advantage of digital technology to offer a cash register wherever the business needs it. You've likely already interacted with an mPOS system when buying tacos from a food truck, treats from a donut shop, specialty jewelry at a craft show, or vintage clothes at a market. You might also use an mPOS to pay for a repair service or the visit of a cleaning crew to your home. 
A mobile point-of-sale system makes things easier for retailers and customers alike as it requires only mPOS software, a mobile device that can serve as a card reader, and an internet connection. No wonder the mPOS terminals' market size surpassed 20 billion in 2019. Global Market Insights predicted the industry would grow 19 percent between 2020 and 2026. The rising adoption was attributed to "low installation cost, ease of accessibility of the devices, and the availability of renting on a monthly basis for small businesses."
Now that you can answer any pop quiz questions on the mobile point of sale, let's consider the benefits in more detail. This article will discuss advantages such as:
Agility

Backend integrations

Customer convenience

Socially distant

Affordability

Limited liability
Agility
Many small businesses start out as cash only. Traditional point-of-sale terminals are typically cumbersome and can be costly. Yet, the mPOS changes that with a highly portable solution that can be set up on a smartphone or tablet.
With mobile point-of-sale technology, you are no longer limited to collecting cash from customers who might not have planned to stop to shop while out and about. It's safe to say even the customer making an unexpected purchase will have their phone with them!
For businesses without a traditional storefront, mPOS allows wireless transactions wherever you make a sale. Even businesses with a set location can benefit from adding mPOS as it lets you ring up purchases outside of the store when necessary.
Backend Integrations
Business owners have powerful computers in the palm of their hands. With mobile point-of-sale systems, they have one more thing they can do online, on the go. Bosses can check mPOS dashboards to check on sales and inventory and gain insights from the data provided. 
Plus, many mPOS offerings integrate with QuickBooks and other business backend tools to streamline business processes. With the mPOS gathering valuable data for you, you can analyze what is selling the most or least, order inventory based on trends, or pull customer email addresses into marketing tools. And that's just the beginning.
Customer Convenience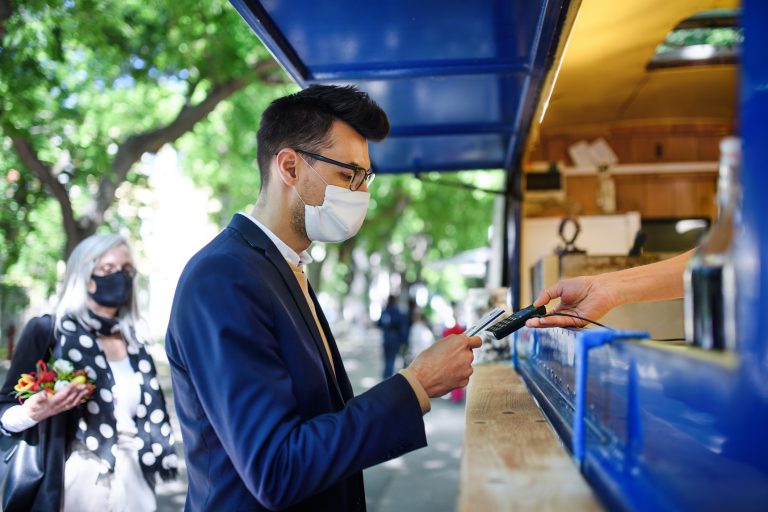 As far as the customer is concerned, the quicker they can check out, and the easier, the better. So, being able to swipe their credit or debit card or place their smartphone up to your mPOS terminal is an efficiency they will appreciate. 
With mPOS capability, you'll increase profitability by making returns easier and creating shorter checkout processes. The customer can be checked out on the sales floor and not even have to line up!
Additionally, mPOS software gives you instant access to the customer's transaction history. This can help employees personalize the experience and drive greater sales opportunities.
Your mPOS can also be used to take payments online via your business website. You can promote mobile contactless payments on your website. Customers will appreciate the ease with which they can pay in advance for curbside pickup, buy gift cards, book services, or pay for their online shopping carts.
Socially Distant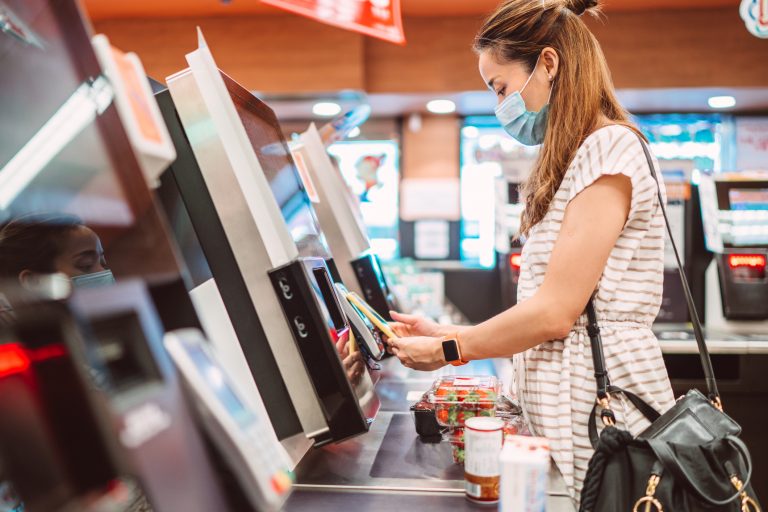 Yes, things are returning to normal post-COVID-19. Still, many customers are now more reluctant to exchange cash for goods or services. They want to minimize direct contact with retailers and service providers. Since January 2020, contactless payments have jumped 69%. Plus, in the United States, approximately 58% of people "were more likely to use contactless cards than they were before the pandemic started."
Mobile payment capabilities let your business accept the Apple Pay, Google Pay, or other mobile wallet options your customers got used to paying with during the pandemic.
Affordability
Mobile POS software can be very affordable. It requires a lower upfront investment than the traditional POS system. 
When comparing your options, you'll want to consider:
Hardware costs (will you read magnetic strip credit cards or add contactless and chip payment readers?)

Credit card processing fees

Monthly subscriptions (if there are any)

Added features (email capture, staff scheduling, analytics, and inventory tracking may be available)
Learning an mPOS can also be easier for employees, and repair is often less complex too. Both of those can save you time and resources.
Limited Liability
The mPOS system minimizes your business liability as it encrypts transactions and doesn't store credit card or mobile wallet data the same way a traditional POS would. Transactions on mPOS systems also must maintain the security standards of the Payment Card Industry's Data Security Standards Council (PCI DSS).
Some mPOS systems even allow the use of biometrics such as fingerprint or facial recognition to add another layer of security as well.
What Is Mobile Point of Sale?
An mPOS system is a cost-effective, compact, and scalable solution for a small business looking for flexibility and security. Offering customer convenience by providing a frictionless purchase experience, an mPOS is taking hold for all kinds of businesses.