Freelancing is booming. Many of the opportunities are for creative work. If doing design suits your skills and talent, you'll want to review this guide on how to help become a freelance graphic designer.
According to The Harvard Business Review, "by 2028, more than 90 million Americans, or one out of every two workers, are expected to hold a freelance position, and many believe that the industry has a bright future." With our enthusiasm for all things digital, graphic design work is in high demand. 
There were approximately 281,500 graphic designers in the United States in 2019. Some 21 percent of those, about 59,000, were self-employed or freelancers. Glassdoor puts the national average for freelance graphic designer salary at $58,903.
You'll be signing on for challenging yet rewarding work. This article will share the basics you need to know to help become a freelance graphic designer in 2022 by discussing:
Opening a business 

Establishing a brand

Pricing your services 

Putting your portfolio online

Marketing your business

Joining a freelancer marketplace

Staying relevant
Open a Business
Take your freelance graphic design business seriously by officially opening a business. You should research the basic laws for having a business where you live. You may want to consult with a tax accountant about laws for contractors and paying estimated taxes. Also, set up a process for keeping track of your invoices, payments, and expenses.
Writing a business plan can help to provide a blueprint for your business and keep you on track. You'll have to outline:
Who you are

Who your customer is

What you do differently

How you will market yourself

How you plan to make money
View these "Examples of Small Business Plans" to get an idea.
Establish a Brand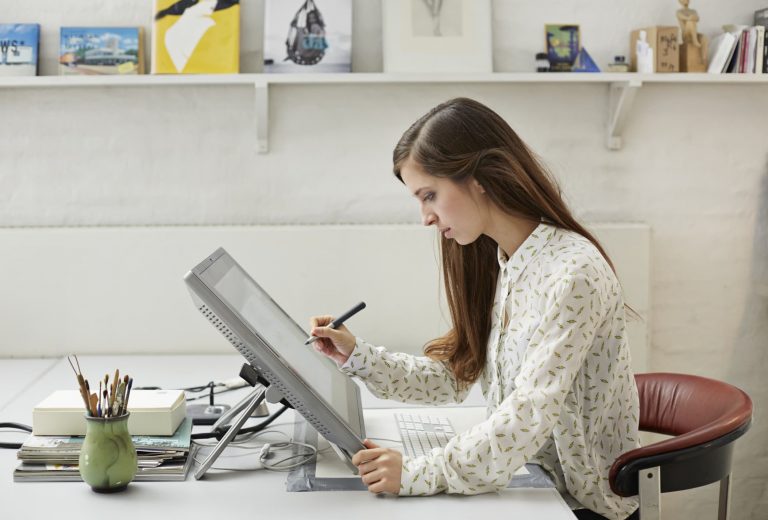 You'll want to design a professional website to launch a graphic design business. Of course, you're going to want to have a great-looking website. It needs to showcase your skills and talents, after all. You'll want to develop a social media profile as well. Designing a personal logo is a good way to make an impression, and it can help you stand out on social channels too.
Finding clients can get easier over time, but you'll need to network a lot in the beginning. Use your branding to establish momentum. Getting a personalized domain name (e.g., yournamedesign.com) is another way to impress potential clients with your professionalism.
Price Your Services
As a freelancer, you have to set your own prices. It can be tempting to charge top rates to make the big bucks. But that could hurt your chances of getting clients. On the other hand, pricing your services too low could make potential clients doubt your skills.
Graphic design boot camp Shillington offers the following advice for setting your freelance graphic design rate:
Look closely at what others of equal skill and experience are charging

Keep in mind your education investment and the type of technology you're using

Don't limit yourself to one rate; "be realistic about the type of design you are doing and charge accordingly"

As you gain experience, increase your asking price
You might also review the rate calculator at Bonsai, which lets you put your role, skills, experience, location, and more to compare rates from 200,000+ freelancers worldwide.
Put Your Portfolio Online
You're going to need to share your freelance graphic designer portfolio with potential clients to get work. Your work samples are what new clients evaluate when considering you for their job. So, this may be the most important piece of starting your graphic design business.
As portfolio website builder platform pixpa puts it, "A winning graphic design portfolio website showcases your work, tells your story, inspires confidence, and opens doors for collaborations." 
In their top 20 pro tips for an awesome freelance graphic design portfolio, they suggest:
Show results and case studies

Inject the portfolio with your personality

Add a downloadable resume

Share peer reviews and testimonials

Review and refresh your portfolio often
Market Your Business
You may be an awesome freelance graphic designer. But that won't do much good if you don't market your skills, talent, and experience.
Use your business website and portfolio to tell your story. Freelance web designer Dave Ellis, author of Go Freelance, suggests you consider sharing: "How did you get where you are today? What's unique about you and your journey?"
Keep your social media presence active and updated. Consider adding a blog to your portfolio, which also gives you something to promote on social media. 
Also, decide on the niche you want to specialize in. This will help you target your audience with content marketing specific to that industry area. 
Join a Freelancer Marketplace
Don't just wait for your own marketing efforts to bring in clients. You can get started right away by putting up a profile on freelancer marketplaces. Some top options for exposure to clients seeking graphic design help include:
Upwork

Fiverr 

Behance

Dribble
As a contractor, you can bid on projects  from logo design to a full overhaul of a website. Many of the platforms take a commission when you land a project with one of their clients. You can make that work by building that into your hourly rate.
Stay Relevant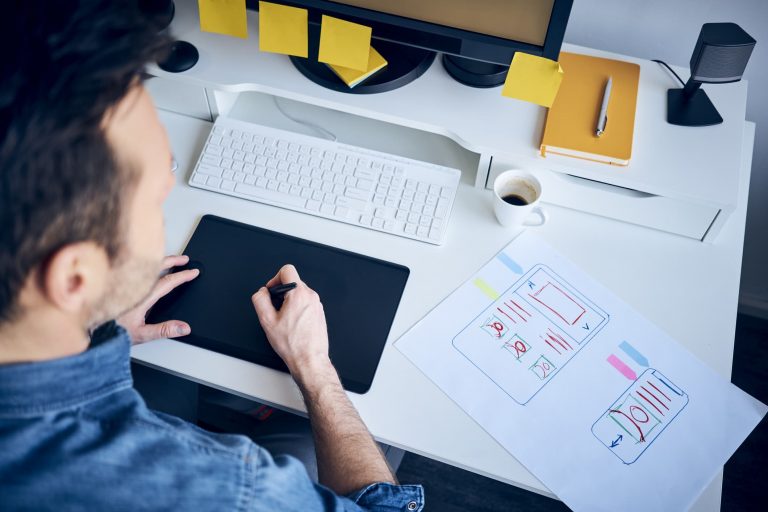 Graphic design, especially in the digital world, is constantly evolving. You need to continue to stay relevant by acquiring new skills and staying abreast of fresh trends. Don't rest on your laurels and expect to continue to succeed. You'll want to consider taking online courses. Also, build a community of fellow graphic designers with whom you can discuss changes in this fast-paced career.
Make a Business of Freelance Graphic Design
Now that you have a guide to help become a freelance graphic designer, you can launch your new endeavor in 2022 with confidence. Check out our small business resources to help you pursue this professional choice with success.