Christmas, Black Friday, Cyber Monday, Earth Day, back to school, and the list goes on. These are times of the year when online spending increases. 
For some of the online stores, holiday traffic is where they make the most money. Each year they are preparing for the influx of online shoppers looking for deals or buying something at the last minute for their loved ones. 
Reading about other stores generating record-breaking numbers in one day while your page was flat in traffic—is not very pleasant. 
In this post, we will go over tips on making the most of this holiday website traffic increase.
Landing Page
Do you know the saying, "First impression matters?" It applies heavily to your landing page. It is the "face" of your business and most probably the only thing that the user will ever see. 
Holiday Theme
While some changes to your landing page will bring additional results, it's counterproductive to change your theme completely, as it may be confusing to repeat customers.
When visitors arrive, your landing page should give them a feeling they will get a holiday offer since it is that special time of the year. It may be as simple as adding a holiday banner or a slight change of color scheme to the one that will reflect the festive period. 
If you decide to shake up your page design with a landing page builder, make sure to do so in advance, so everything is tested and running smoothly before the holidays. Let's have a look at a couple of examples. 
Here is the landing page of eBay a few days before Black Friday: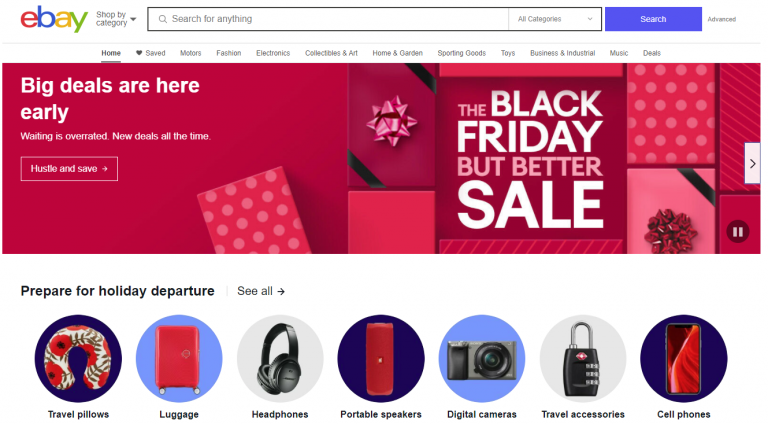 Notice that while eBay kept the overall design of their page the same, they emphasized the Black Friday sale. 
Closer to the end of the year, people tend to travel more (vacations or travel to see the family for Christmas); eBay knows that and cross-sells products related to travel. 
In our next example, we have Amazon: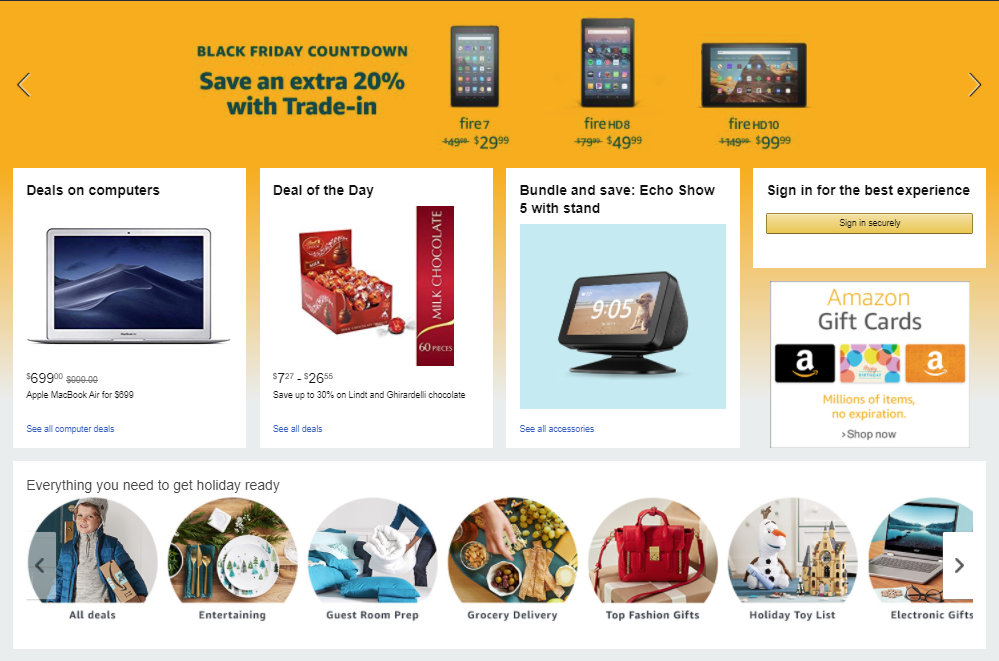 You can immediately recognize the familiar Amazon design. What is added are the mentions of Black Friday deals and some purchase suggestions to get you ready for the upcoming holidays (in a similar manner to what we have seen in the example of eBay). 
Special holiday proposals are not in any way limited just to e-commerce sales. HubSpot, which provides various tools for B2B (CRM software, sales, marketing, communication software, etc.), did the same for their clients but in a bit different manner: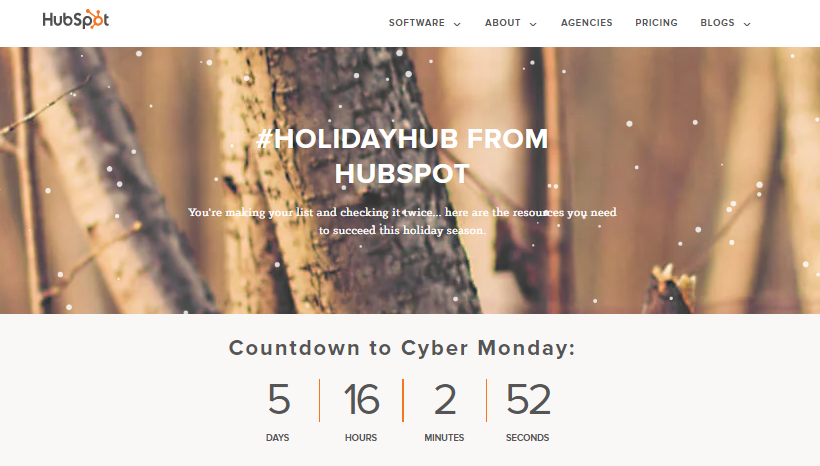 Knowing that traffic during holidays will spike, HubSpot made a microsite where it gathered all its resources to help their B2B clients plan their holiday strategy correctly: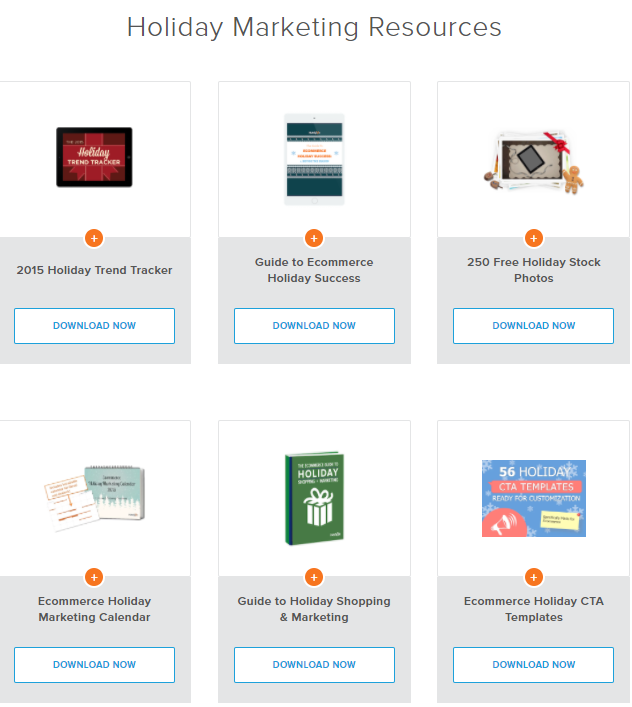 In the first part of the minisite, Hubspot identifies the problem—a significant increase of visitors also means a need for increased capacities and automation. 
In the second part of the page, they provide reports and guides. They are further uncovering how big the potential problem and opportunities might be. As a solution to that, they offer a free call with their consultant to see how Hubspot may help in this challenging time. That is also the main call-to-action goal. 
You might have noticed some common denominators when it comes to holiday promotions.
For B2C:
1.Some products just tend to work better during the holiday seasons. If your business has already gone through one of those—analyze which products or services were bestsellers last year during holidays, and leverage this data to increase the success this year. 
If this will be the first holiday season for your business—analyze what competitors did last year (for example, through pages as archive.org) or just emphasize the promotions of the products that are working for you no matter what time of the year it is (with a different marketing angle).  
2. During the holidays, sales volumes will increase significantly. So what may seem like a decrease in the margin (due to a holiday discount) will result in higher profit. Instead of 100 items with a 15% margin, you will sell 200 with a 10% margin. Always look at the bottom line.  
3. Free shipping is often expected during the holiday season, so consider adding it as a special holiday promotion. 
For B2B:
1.Assess how your service or product could help your potential clients during the holiday season.
2. Based on your research from point 1,  show your visitors the solution and, most importantly, clarify how your service or product is essential to achieving their goal. For example:
a. Email Marketing Services—a guide on best holiday subject lines that will ensure the highest CTR, pointing out that bulk emailing is best done through your platform.
b. Hosting Services—show research on how site speed influences the bounce rate while promoting the speed of your hosting.
c. Print on Demand—explain how a corporate hoodie increases employee loyalty and their allegiance to the brand while offering delivery before Christmas for free.
3. You may also emphasize the importance of a particular service and offer a free consultation, where the main aspect of discussion will be the preparation for the holiday traffic influx. 
Page Optimization
While making any changes, it is important to keep in mind the overall performance of the page. For example, mobile browsing is dominant and continuing to grow. Over 51% of users browse through mobile (if your traffic comes from social media, the number might be even higher), make sure that your page is optimized for that. 

If you are a small site and even a double-digit growth in visitors will not be a problem for your hosting—there is not much to worry about. But in case you have high expectations of the traffic inflow, you should take the needed precautions to increase the loading speed as much as possible.
A study by Akamai shows that:
100ms delay in loading time can decrease the conversions by 7%;

2s delay may increase the bounce rate by 103%;

3s delay will make nearly 53% of mobile site visitors leave the page.
While preparing for the holiday traffic influx, it is a good idea to solve all the technical issues that you may have faced in the past. Below is the list of steps that you should consider before launching your holiday campaigns: 
Optimize for Mobile. We already discussed the importance of it—you can check how your site behaves on mobile phones with

Google Mobile Test Tool

. It will show you the loading speed and also give some tips on how to improve your site. 

Increase overall loading speed. Google is here to help again. Check your page speed at

Google PageSpeed Insight

.

Make sure you have a hosting package that will support your growth and not go "404" on you when you need it the most during holiday sales. Consider using Cloudflare to protect yourself from DDoS attacks. 

Check how your popups behave on mobile. Make sure that the sizing is correct and that they are not damaging the experience of the mobile user.  

Get rid of any plugins that you are not actively using. It will help the site to load faster. Keep them all updated.
Expand the Business
This is also a good time to branch out. If you are looking for a new revenue stream for your site, the holidays are the right time to give it a shot. Starting an online store may be a good idea to monetize the holiday traffic to its maximum potential, as everybody will be looking for an interesting deal. 
If you are already running an online store, it might be a good idea to revisit the operational side of things. For instance, keeping an eye on the inventory turnover ratio during normal times and earlier holiday seasons may be a good indicator if you need to stock up more or not. 
In case starting the whole online store seems like a difficult task (which it is), you can test the e-commerce potential for your website in a more easy way and start with dropshipping. If you have a specific niche, try to find products that would make good presents in that niche. 
Or you may try a commission scheme (affiliate marketing) in one of the profitable niches. Make sure to choose the niche that is best aligned with your business and the overall theme of your site. 
Holiday traffic will enable you to try new products/niches on a significantly increased audience. Depending on how the product or service will perform in this "stress test," you may want to leave it as a part of your permanent offer or use it just for particular occasions.
Discounts, special offers, and free shipping are just a few of the tools that will help retain your visitors. You can use additional strategies, like the mentioned popups or building a chatbot to decrease cart abandonment or help the first-time visitor navigate the site. 
For example, if you have not implemented it yet, start using an exit-intent popup. The best way is to make a special offer in a popup that wasn't on the landing page itself. If the visitor was on the fence about the action/purchase, the offer in the exit popup might help them make the final decision. Consider using a customer retention tool to make sure that you can successfully convert visitors and retain their loyalty when they become customers. 
One last thing that is worth mentioning—holidays are also a great time to gather data. An influx of customers means that you can stress test your systems and, more importantly, gather valuable insight. You can feed your net promoter system with a lot of data that will show the pain points of your business, which will allow you to improve customer satisfaction in the long run.
Holiday Promotion
This section will tackle a very important question: How to get more qualified visitors to see your holiday offer? Let's have a look at a couple of actionable tips. 
Google Consumer Insight
Check the Google Consumer Insight section (further as GCI) for new ideas. It has a lot of data on holiday searches and the behavior of the customers during the holiday seasons.
For example, the search for "personalized gifts" has increased by over 80% in the past couple of years. Another example may be the combination of "best" + "right now;" it has grown by over 125% in the same time. Additionally, Google has stated that nearly 15% of search queries have never been seen before. There is a constant flow of new potential marketing angles, so make sure to check them out. 
Let's give the GCI tool a closer look. 
Consumer Trends—Regional Tips 
Under this category, you will find many tips and tools that are localized for your market. For example, there is a Seasonal Calendar available for your region, featuring some information on various holidays and customer behavior: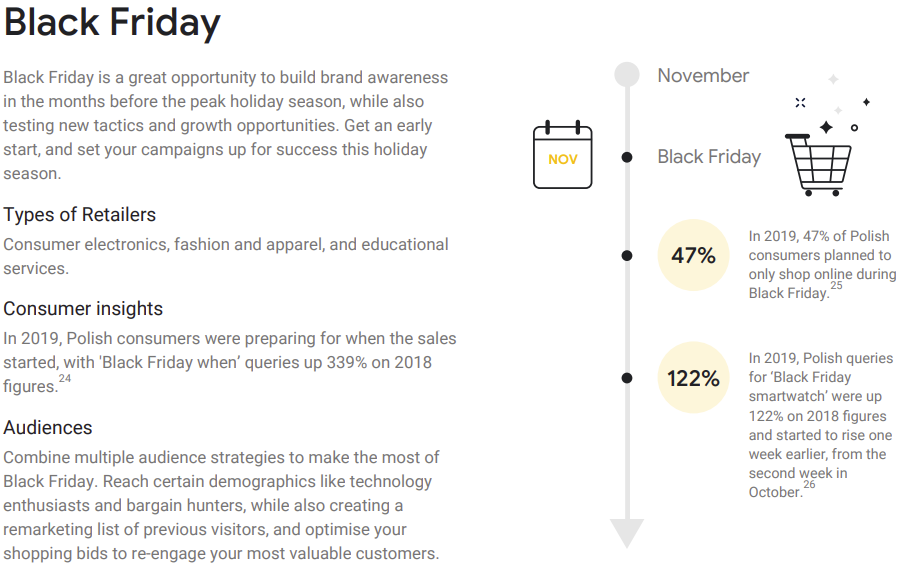 Go there, and check what tips Google has for your region. They even went one step further and created several webinars which you can watch on-demand, that are targeted at working with Google during the holiday season: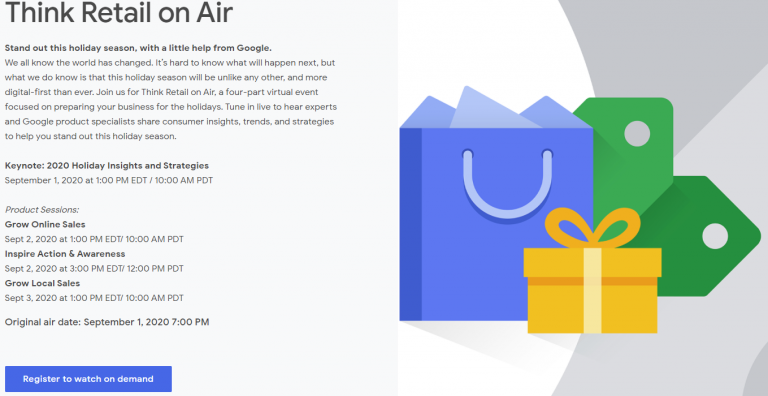 Raising Retail Categories
If you are not sure what will be trending in the upcoming season, these tools will provide you with many retail ideas on what to sell online. For example, these are results around Halloween: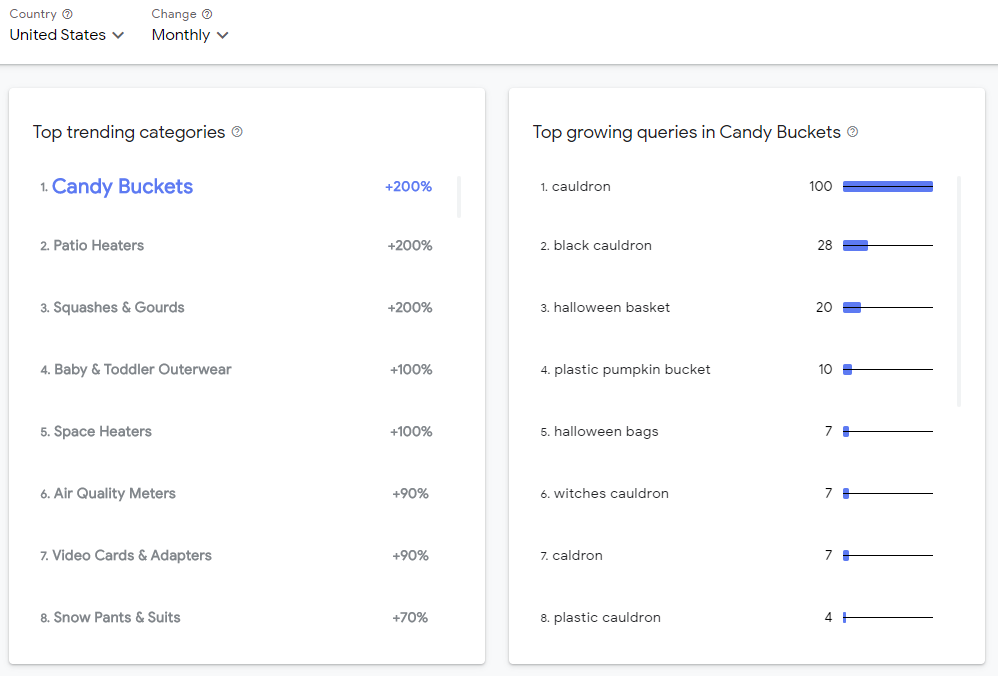 Before the start of any holiday season, check these tools and see what categories are trending.
As an example, there is a surging trend of online Valentine's Day gift sales over the past few years.
Follow the trends and prepare your content and campaigns so you can leverage them during that holiday. 
Find My Audience
Do you know all the parts of the internet where your audience is? It might be challenging to keep track. Every day there are new Instagram influencers, websites, forums, pages, groups that you didn't know about, with the potential to provide you with new qualified visitors that your competition did not reach yet. Google comes to help again with Find My Audience Tool.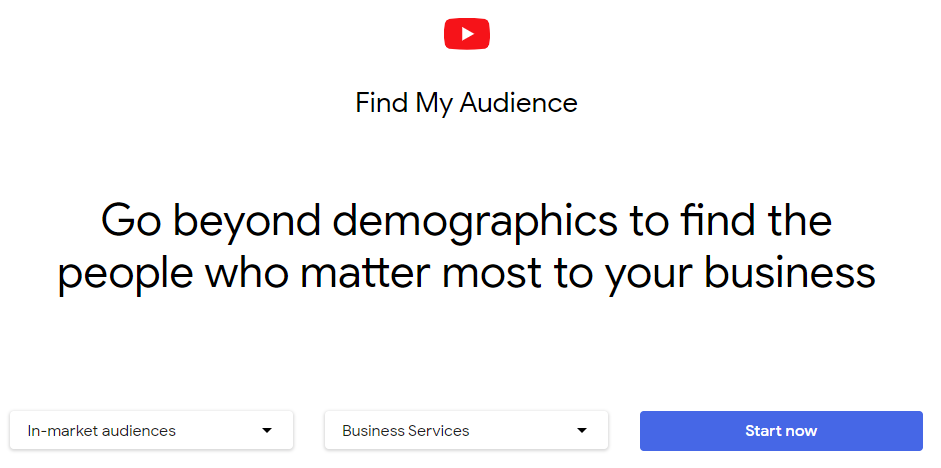 As an example, we chose "In-Market Audiences." Those are the users who are expected to make a purchase, and we chose the "Business Services" category. There are options for many other industries and market niches and also an "Affinity" option (an audience that is close to the market niche but is undecided concerning the purchase). Those options will show you the behavior of fans of a particular market niche. In the next step, we selected "Business Financial Services" and got these suggestions: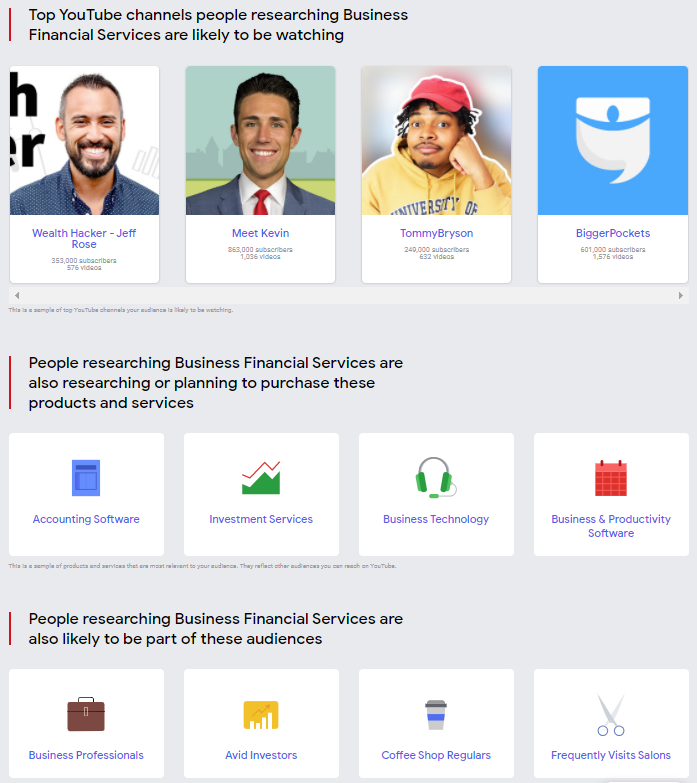 In the results, you will see YouTube channels that the target audience follows, other products that your audience is interested in, and some ideas for related services. This tool gives you new places where you might want to reach out to your audience and provides you with influencers to approach that audience. If you were not sure where to start with your influencer marketing campaigns, this might be it.
PPC Campaigns
It is important to point out that your PPC campaigns must change during the holidays if you are looking to make the most of the natural increase in holiday traffic.  
To give you an example, the search for last-minute gifts will increase, which provides you with many new marketing angles to consider. 
Also, as we already discussed, you have to start building your holiday PPC strategy in advance. For example, you can start preparing yourself for Christmas already in July. Why? For more details, let's have a look at Google Trends.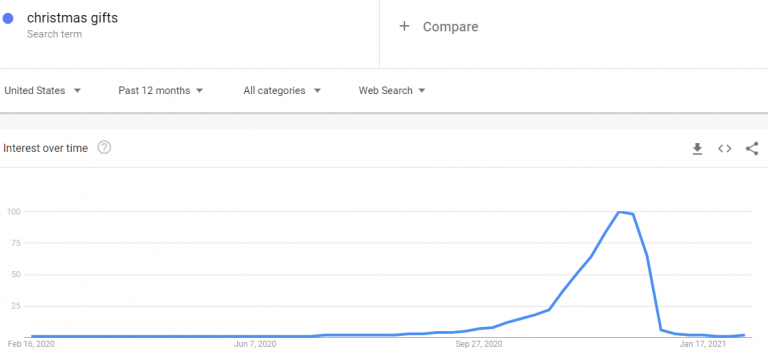 As you can see, the search volume is picking up already in September, but let's use a particular product and see how it behaves during that holiday.
Research New Keywords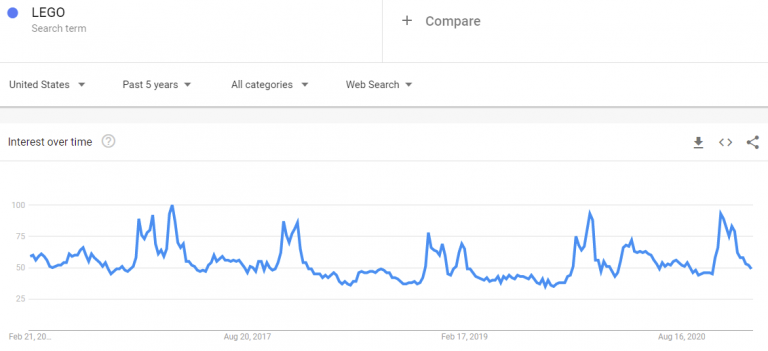 We wanted to point out that the trend repeats itself like clockwork. Each December for the last five years, LEGO receives a huge boost in search queries, which fades off in January next year. 
Apply the same approach to your niche. Check the keywords in Google Trends, and try to look for this type of predictable behavior. When you find it—allocate a sufficient budget to test out the right keywords, and you have your holiday PPC campaign ready.
Target Holiday-Related Keywords
Do not hesitate to test a wider variety of keywords than just those related to a particular product. Keep in mind that the competition will be strong, so look for long-tail niche keywords. Targeting keywords like "last-minute Christmas gifts" will yield much better results than going just with "gifts ideas." 
During holidays, the users are in a hurry (more than they usually are), so there is pressure to make a fast decision. Leverage this to your advantage. 
Holidays are a great time to try new paid traffic sources. While you are probably very active on Google and Facebook, there are also Twitter, Instagram, Pinterest, TikTok, and YouTube.
Start With Pinterest
We wanted to separate Pinterest from other types of promotion as it seems that it is frequently overlooked. 
Why the sudden highlight of Pinterest? Because there are a lot of qualified customers (decision-makers) on the platform. Let's have a look at some numbers:
Over 400 million users;

Predominantly from the U.S.;

76% are female, with 83% of those between age 25-54;

50% of Pinterest users households earn over $50k per year;
You may see that the audience is perfect for a holiday promotion. In this section, we will briefly look at ways to get traffic from Pinterest during holidays. 
Pinterest PPC
You can get as low as $0.10 per click on Pinterest. The most popular topics are recipes, travel, fashion, lifestyle, and related niches. You can reach very low PPC for other topics too, but it will take a bit more work to find the right angle. The Pinterest audience has a particular set of interests that you need to cater to reach the lowest prices. 
Pinterest Organic Traffic
In SEO, you must do several things before Google notices you and you start to rank. It may take anywhere from 6-12 months before you will see any results at all. 
Not on Pinterest. Pinterest is a visual search engine where you can get instant results if you create a "pin" accepted well by Pinterest users. 
Particularly around holidays, there are a lot of opportunities for a quick inflow of traffic.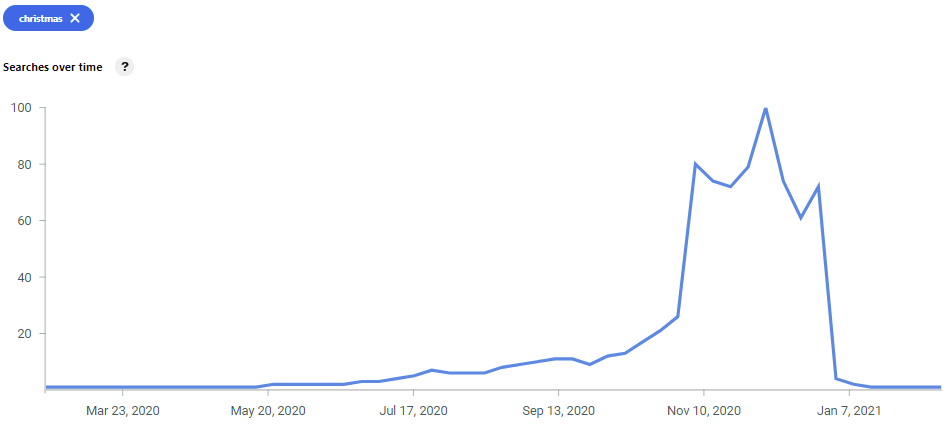 This is a picture from Pinterest Trends. As you can see, search queries with the term "Christmas" start to pick up as early as July. 
Create the right pin on the right Pinterest board, featuring a Christmas theme, and you may get an immediate inflow of traffic. Continuing to hit the right angles will ensure that this traffic will not be a one-off event but a constant visitor inflow with steady and continuous growth. 
Reach Out To Influencers 
Holidays are the time when the use of social media increases. Start creating a list of influencers in your niche. Create a table of people to reach out to with a proposal of collaboration.
The list may include personal and theme accounts on Instagram, bloggers in your market niche, YouTube channels, etc. The idea is to have names and emails of people who talk to the audience relevant to your goals. 
When this is finished, get in touch with them to get a shoutout (on Instagram), a review, or a mention on their channel. 
SEO, Yes … SEO
While there are some advanced SEO tactics that you should take into consideration, let's have a look at how to improve your SERP position before the holiday spenders go to Google. 
Search Engine Optimization Route
To illustrate this point, we will be using Ahrefs, but there is a range of free and paid SEO tools that you may use for your research.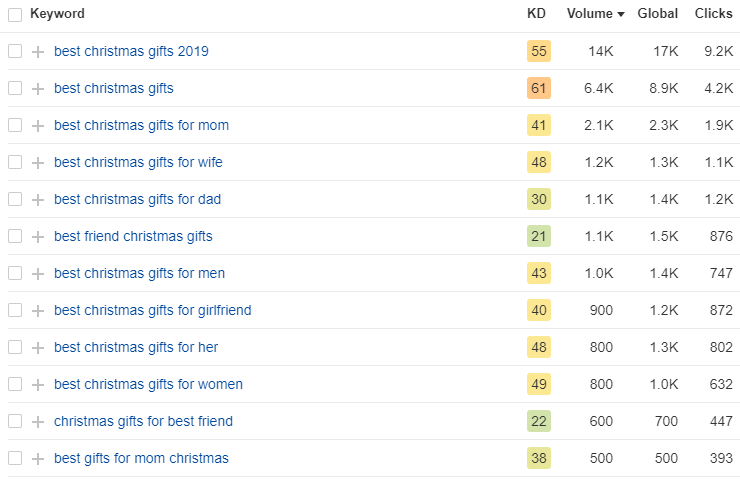 In this example, we can see that the "best friend Christmas gift" has the lowest keyword difficulty with a strong monthly search volume in the U.S. So, 1,000-2,000 words of content on "25+ Best Friend Christmas Gifts Ideas" could get you ranked quite high (final place would hugely vary on your domain ranking as a whole). 
Start working on this type of content several months in advance. If your site already has good domain authority, you may end up ranking quite high—right before the holidays begin. In addition, you may use this content for PPC purposes and drive the traffic not directly to the product but rather to the info page, which is usually cheaper. 
Keyword Golden Ratio (KGR)
KGR is a number (or rather an SEO strategy) that can deliver quick results. It works like this:
Search for the exact keyword phrase with the use of "allintitle" on Google.

Divide them by monthly searches (look for volumes under 250).

If KGR is less than 0.25, you will rank in the top 50 as soon as Google indexes you.
Notice how we mentioned "volume under 250?" That is because phrases with higher volume will usually have more competition and will not allow you to index easily. 
The thing is that if you find 5,10,15 of such keywords, it would mean that your 15 new posts would rank at 50-1 in a couple of days. Imagine the influx of traffic if you do your holiday analysis right. Also, the more niche the keyword is, the higher will be the share of qualified visitors. 
Update Your Content
Google loves up-to-date pages. If you have content that is performing poorly or the traffic is dropping for the last couple of months, make sure to update it. 
Social Media Channels
When your new content, banners, and designs are ready for the upcoming holiday season, it is time to start informing your existing audience about what they might look forward to. 
Make sure that all of your local social media are communicating the same message. For instance, if you have an online store and plan to have a discount on the weekend, "save the date" should be communicated in the same coherent manner through all the channels.
Let's go over some of the actionable tips that will improve your social media presence and drive qualified visitors to your site during festive times. 
1.Organize Contests
A great way to increase your social media following, and drive qualified visitors to your site during holidays, is to organize a contest or a giveaway. It can range from a simple giveaway on Twitter like this one: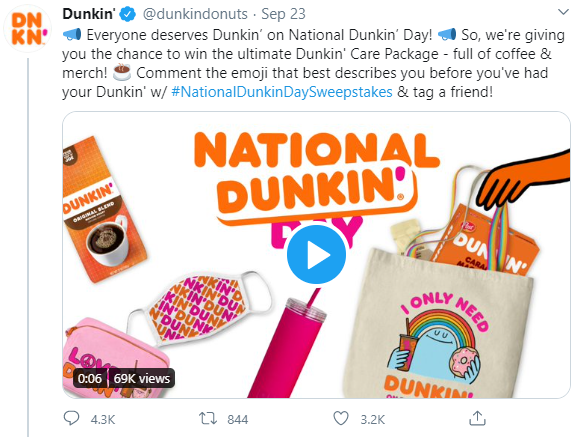 To more complex campaigns as the ones you may see in this referral contest case study. Holidays are a perfect opportunity to leverage this strategy. 
2. Use Holiday Hashtags. 
Hashtags play a vital role in the distribution of your content. Unfortunately, they are frequently misused or not used at all. 
To get you more comfortable with the holidays' hashtags and trends, I suggest looking at Sprout Social #hashtagholidays which may give you ideas for other important days than just Black Fridays, Cyber Mondays, etc.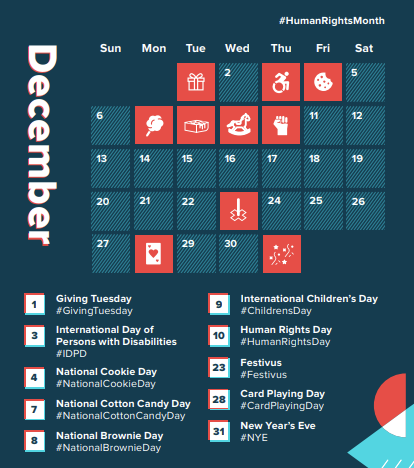 While it is tempting to join any ongoing trend that there is. Make sure to connect your brand only to the events that make sense in your overall communication strategy.
3. Use Instagram Stories
During the holidays, Instagram stories are a medium that can not be missed. The combination of a short video with a swipe up leading to the landing page works well.

Also, a new story will create a colorful circle around your logo, which increases the engagement rate as the audience sees that the account is active. 
Here is an example of an interesting corporate execution. While not related directly to the holidays, Mercedes created a series of stories featuring some parts of its new Mercedes Benz Museum. After you reach the end, Mercedes offers you to check out their YouTube channel for the full tour: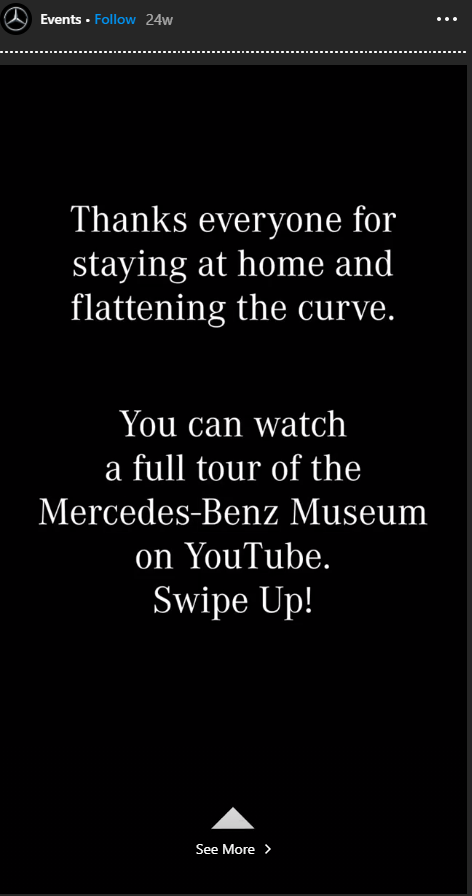 In the same manner, you could create a Christmas series that can feature:
A holiday quote;

Special promotion; 

A flash sale;
Lilly Pulitzer created a special offer just for its Instagram followers (not available anywhere else). They announced when the story would be launched in advance and informed their audience that the special offer and the product itself would be exclusive to Instagram. 
As you know, Instagram allows swiping only on business accounts with over 10,000 followers. If you have those, great. But what if the holiday is right around the corner and you are stuck at 9,000? 
This video explains a way how to get semi-swipes before reaching the followers' threshold. It is a workaround. Alternatively, get verified, and you will also have swipes available.  
4. Create Twitter Polls
According to research by Bain & Company in collaboration with Twitter, companies that launch their event or product on Twitter are 2x more likely to reach their KPIs. So when considering traffic sources, a tool to have on your list is Twitter polls. 
They may serve as an indicator of your audience's mood or preferences, but most importantly, they will get the audience engaged. For instance, Coca-Cola is using Twitter polls during important days of the calendar:


As you can see, it does not have to be anything groundbreaking. The most important aspect is to get the audience reacting, so any poll that will get the discussion going and will polarize the audience (in a positive manner) will be well accepted.
Suppose you are seriously looking into Twitter as the way to get the most of the holiday influx. In that case, you may consider using one of Twitter analytics tools to make sure that you have the correct overview of the results and reach.
Hold Holiday Webinars
Webinars gained a notable increase in popularity. They have multiple applications—conferences, hiring, education—this all can be done through various webinar software services. Here are a few examples of how you can use webinars to increase sales and overall engagement on your page:
1. Invite an interesting speaker.
Webinars allow you to invite anybody from all over the world without a need for travel arrangements and difficult time planning. As this will enable you to significantly expand the potential guest list, you can choose speakers that would otherwise be unavailable to your audience.
2. Choose an original topic.
Your webinar could be an outlook for the next year, related to your particular niche, or a discussion of an issue that resonates with your followers. Webinars are usually 30-60 minutes long, so you do not have to develop a full-day program. Rather, you can test various topics and see which one will remain on the repeat.
Also, you can record the webinar and use it as an additional freebie for those who did not see it live. 
3. Present a new product or service.
BMW, Bentley, Porsche, Audi, Mercedes—all revealed their new cars purely online. Webinars allow you to do the same (while being more interactive with your audience). It will give you the chance to explain all the intricacies of what your product or service has to offer. 
4. Upsell high ticket products.
Create a smaller group of clients or leads to whom you will give a private presentation on a particular product you have. High ticket sales are challenging to do online. This way, you can pre-sale your VIP group, which you would invite to your site to get a special holiday offer. 
Holidays open a variety of topics, and this is a great way to leverage it. Webinars are just one of the options on how to create a soft sell. Another angle would be using online course platforms to create special learning sessions for your audience. 
Leverage Your Email Subscribers
If you are in the digital marketing field for some time, you know the importance of email marketing, and I am sure you are gathering emails from day one. 
Holidays are a perfect time to activate that traffic sitting in your subscribers' list on one of the email marketing services you are using. You will have an additional reason to communicate with your subscriber, and with a special holiday offer, you may convert the cold leads that were just previously sitting there.
1. Time Your Emails Properly
Consider the holiday buying cycle. How long does it usually take your customer to make a decision? Is your product an "impulse purchase," or is the purchase usually planned? For example, if it is an impulse purchase, you could send the email on the same day as the promotion. But in case of the planned purchase, you should start informing your audience about a holiday offer several days (in some cases even weeks) before they will be able to take advantage of the offer.
2. Special Offer
In the same manner, as with changing your PPC and social media strategy to fit the holiday narrative, your emails must become a bit different too. An example of a good holiday offer is from a swiss company, On Running. They made an email campaign where they estimate the last date of purchase so your package can get to the recipient before the start of the holidays: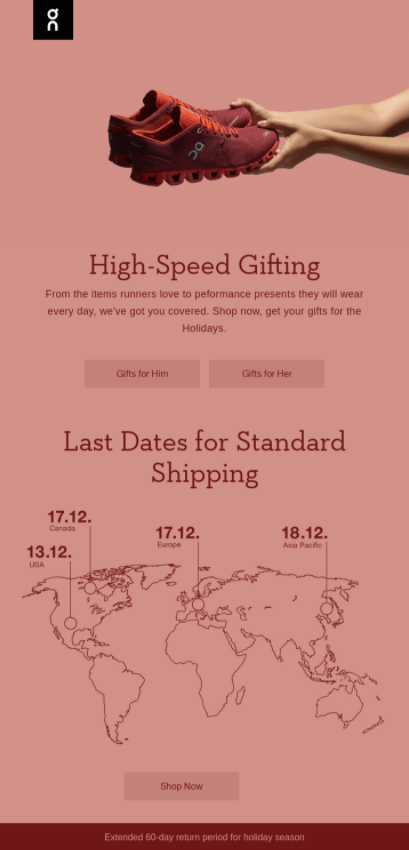 They also provide an extended return period in case the gift does not fit.
This is an example of a holiday email from a store with a tangible product. In case you are selling a service or a digital product, the approach would have to be adjusted, but the main ideas remain the same: 
Special offer; 

Sense of urgency;

Call to action;
A combination of these will make sure that your site and your offer receive a solid amount of holiday traffic from your email list.
3. Don't Forget To Follow Up
Pre-holiday time is busy for everybody, do not forget to send a follow-up. After the follow-up (which included the repeated CTA), send a "last chance email" where you would add something extra to the offer. 
There are many strategies for approaching holiday emails, but always keep in mind that you have to start them before the holiday itself. Also, a couple of reminders and "save the date" emails will go a long way when it is time for action. 
Executive Summary
Holidays are a time of increased traffic and many possibilities for your business. In this post, we discussed the basic changes you need to consider to make your landing page ready for holiday traffic. 
We also went through several main ways of traffic generation to increase the number of qualified leads on your page. 
Changing your PPC campaigns will ensure that you leverage the holiday search terms and keep improving your metric with each holiday season.
There is a lot to be achieved with SEO traffic. By capturing the KGR "low hanging" long-tail keywords, you significantly improve your chances to drive even more qualified leads to your page this way.  
You should consider Pinterest as a new addition to your marketing mix. It will allow you to get cheap paid traffic or get quick results organically, driving decision-makers to your site. Also, most Pinterest traffic is U.S.-based, so there are not many alternative ways to get such qualified traffic so easily.
Social media marketing is a complex discipline that requires notable preparation. We listed many tips that will allow you to get your audience's attention and make sure they will be ready to take action when the time comes.
Last but of course, not least, we discussed a slightly different approach for your email marketing activities to ensure that those from your list who were ready to take action will do so during the holiday period.
Combining and applying all these tips to your business will make sure that you capture the holiday traffic wave! 
About the author
Vlad Falin is a digital marketer and founder of Cost Of Income, where he writes to tens of thousands of monthly readers about online business and digital marketing tools.