As a designer, you're a creative person. That's what makes you good at what you do. But being great at design doesn't make you an expert in putting together the online portfolio that serves as your e-calling card for new clients. This article will share the basics of how to create an online portfolio.
A strong online portfolio is essential to your success as a designer. This is how prospective clients are going to get a sense of your design style and get to know your experience. In addition to sharing online portfolio examples, this article will explore how to create an online portfolio, specifically:
What needs to be in the portfolio

How to present your portfolio

The importance of quality over quantity

The need for a business website with good copy

The value of SEO and business listings to get your portfolio seen
What Needs To Be In the Portfolio
In discussing what needs to be in your portfolio, let's be clear that we're focusing on how to make an online portfolio for a graphic designer. Interior decorators, stylists, web designers, and writers also use online portfolios, and some of these strategies will resonate, but all our examples of online portfolios come from graphic design.
That said, what do you need to have in your online portfolio. You'll want to include:
Design gallery.

Show samples that are carefully curated to make an impression and tell viewers a story about you and your work.

Social presence.

Clients will want to see your Instagram handle. "If you're not posting your work on Instagram, then you should be," Crown Creative NYC's Alejandro Rodriguez told

Creative Market

.

Fresh work

. Make sure you are regularly updating your portfolio. You might even do your own separate project to demonstrate new skills or interests.

Description of your process.

Sharing the details of a brief you received from a previous client. Showcasing how you interpreted that brief and the different iterations you went through before agreeing on a final deliverable can be very helpful. 

Website link.

Sending them to your professional business website can differentiate you as a hirable graphic designer.

About you.

Share your background, experience, and design influences to give people a sense of who you are as a person.

Client testimonials.

If you can demonstrate you are in demand and have done great work for past clients, you'll gain credibility.
Check out HubSpot's collection of the 12 best graphic design portfolios to see what we're talking about.
How To Present Your Portfolio
Options abound. Consider this variety of options from the online portfolio examples shared by CreativeBloq:
Contemporary branding and design studio

Made Thought

recommends "big type, big pictures, big parallax scrolling and a big philosophy" that can make "a bold statement" and share "stunning examples of work."

Illustrator and artist

Merijn Hoss

takes a more traditional approach that proves "you don't need all the bells and whistles to make an impact."

On the other hand,

ToyFight

's use of "a number of whizzy effects — from parallax scrolling to animated transitions and even 3D rendered versions of the studio's founders fighting each other" is a lesson in humor and panache.
Whatever approach you pursue, it's a good idea to get a personalized domain name and business email. This will help with branding yourself and creating a professional impression for your small business.
The Importance of Quality Over Quantity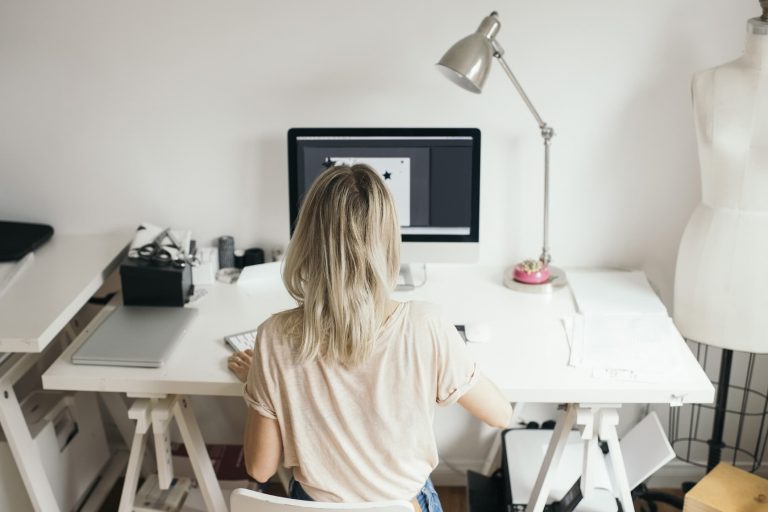 One of the best pieces of advice for how to create a graphic design portfolio applies just as well to a physical or online version: be selective.As New York-based designer and type artist Sasha Prood observes: "Only show the projects that you can really stand behind."
You also want to show off the work that best relates to the kind of projects you want to take on. You want to illustrate your skills and abilities in a way that will set you up to attract the type of future clients you want.
Take a look at designer and artist Marleigh Culver's online portfolio. She uses, per CreativeBloq, "carefully chosen color and type combined with a simple layout and navigation" and "large, fast-loading images" to share her work.
The Need for a Business Website With Good Copy
Of course, designers want a beautiful and quick-to-load online portfolio. But don't underestimate the power of a strong business website with good copy. Impress visitors not only with your design work but also with your professionalism. An easily navigable business website with clear, concise, and powerful copy can make the difference in establishing you as the designer of choice for a potential client.
Paris-based Digital Art Director Yul Moreau has a single-page business website with detailed text explanations to "give a complete overview of his work." CreativeBloq writes, "Yul Moreau has a portfolio site that grabs your attention from the off with its splendidly garish background montage of retro video."
The Value of SEO and Business Listings To Get Your Portfolio Seen
Your online portfolio helps develop your personal brand as a designer. Now, to help get seen by the right clients with projects that best suit your style, you'll need to work on search engine optimization (SEO) and set up business listings. 
You can learn a lot in our guide, "The Basics of SEO for Beginners." But, in summary, you'll want to know:
Ranking comes with understanding your audience and intention

Finding the right keyword terms to use on your business website and in your portfolio can help draw an audience

Using analytics data can help you to improve your SEO performance

Personalizing your content can help

Integrating social content into your website will help boost your SEO 
Tim Smith's portfolio is an online example on CreativeBloq's roundup that incorporates social links on the front page along with his portfolio pages. 
You'll also want to use online business listing sites to help get your graphic design efforts seen by a bigger audience. The top sites are Google, Facebook, and Yelp.
Find out more about lifting your local search profile in this roundup of five top tips.
Put Your Best Foot Forward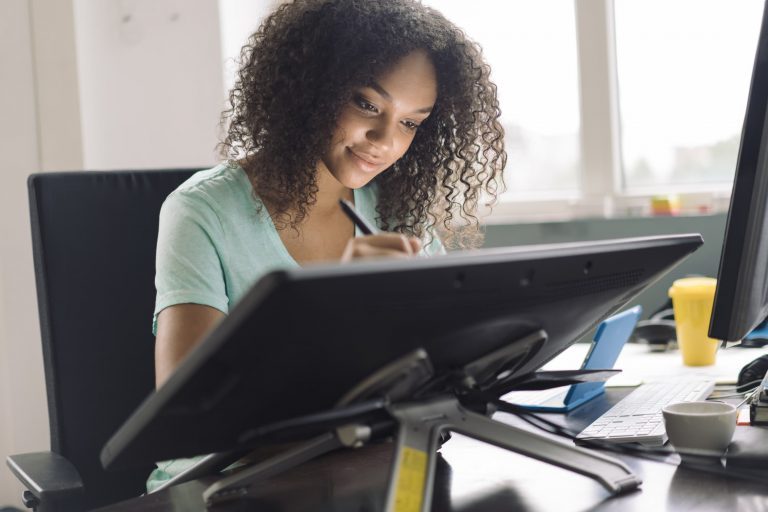 Now, you don't just know how to do amazing graphic design, but you also have a better understanding of how to create an online portfolio. Drawing on these online profile examples and the discussion in this article, you can get started promoting your small business and help grow your graphic design company for 2022 and beyond.